Guide to ACA Compliance
Complementary eBook:
UltiPro is ready for the Affordable Care Act (ACA). Are you?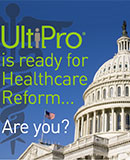 The rules governing health care in the US are changing fast!

Be sure your organization is on track to comply with the new legislation by reading this newly updated eBook. Ultimate helps tens of thousands of employees worldwide get clear, streamlined access to their health care benefits. Our experience puts us at the forefront of the industry in compliance and readiness for the incoming changes.

DOWNLOAD
---
Demystifying Healthcare Reform Whitepaper Series

In our brand new, ongoing Demystifying Healthcare Reform series, we'll cut straight to the point and get you the information you need to know about the Patient Protection and Affordable Care Act (PPACA). Each volume will shine a light on one aspect of the legislation and get you up to speed quickly. Learn the key factors your business should consider to hit the ground running under the new law.

2016 Regulatory Update – New!
Download PDF Now
See what's changing in the new year at-a-glance.