<< Back to HR Heroes
HR HERO:
Lou Sylaj, Equinox Holdings Inc.
Streamlining processes for a global workforce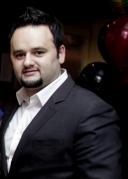 Equinox Holdings is a high-growth luxury fitness leader with over 13,000 employees, 4 different brands, and over 130 locations in the U.S., Canada, and the U.K. The company is responsible for a complex payroll with more than 1,200 earning codes and many variable ways of paying its employees.

The company sought to reinvent its HR operations, striving to not only automate its manual HR transactions, but also to use HR technologies to maximize its talent management and business intelligence.

Lou Sylaj, director of finance operations for Equinox, led the HR team's smooth and under-budget deployment of UltiPro, taking the solution live in just seven months. Equinox now uses UltiPro for onboarding, payroll, time and attendance, and performance management.

Sylaj's vision for HR operations has resulted in fundamental business improvements. UltiPro has cut payroll processing time by 50%, substantially reduced paper use, and seamlessly consolidated the data for 2,000 new employees. Equinox's multi-national, multi-lingual employees are finding the technology easy to use, and their high adoption rate is helping the company manage its global workforce while concentrating on strategic planning.

Congratulations to Lou Sylaj for his exceptional use of HCM technology to solve complex challenges!