Multimedia Center
Videos
The History of a Winning Team
Ultimate Software: Helping Businesses put People First
Endless Innovation at Ultimate Software
Infographics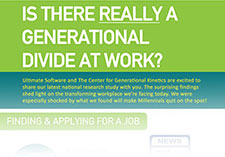 Is There Really a Generational
Divide at Work?
See the results of this national research study on Millennials and other generations in a graphically illustrated format, by Ultimate Software and The Center for Generational Kinetics.
View Infographic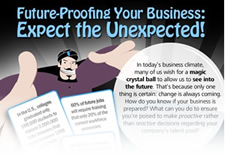 Future-Proofing Your Business
Learn some surprising facts about succession planning, and gain a better understanding of why future-proofing your business is more important than ever.
View Infographic
Weathering the Talent Management Storm
Check out this fun, visual game plan for nurturing your top performers that you'll surely want to pass along to your coworkers!
View Infographic
Images